Jag läste på
EU-Observer
att EU:s utrikesminister Catherine Ashton pladdrande poängterat att EU vinnlagt sig om att den "demokratiska oppositionen" följt den ukrainska konstitutionen till punkt och pricka vid avsättandet av president Viktor Yanukovych. Well, oavsett vad man anser om Viktor Yanukovych så har man icke följt den ukrainska konstitutionen utan tvärt om - man har brutit mot den. För att Ukrainas president skall kunna förflyttas från ämbetet måste något av fyra följande kriterier uppfyllas:
1) Presidentens egen meddelade avgång
2) Hälsoskäl med medicinska utlåtanden samt vederbörlig process i parlamentet
3) Presidentens död
4) Åberopande av artikel 111, vilken säger att 2/3 av parlamentet åtala presidenten för förräderi/kriminalitet. För övrigt en komplicerad parlamentarisk och juridisk process som kan ta många månader.
Inget av ovanstående fyra kriterier har åberopats eller uppfyllts, och det avgör att det de facto är en statskupp som genomförts i Ukraina.
RT:
Thousands rally against 'illegitimate govt', raise Russian flags in eastern Ukraine
En av världens farligaste män, Carl "Folkmördaren" Bildt, agerar språkrör för hans amerikanske husse Barack "Killer" Obama som uttalat att Ryssland bryter mot internationell lag. Well, jag får lust att säga något om att "skyffla undan skyskraporna av lik framför egen dörr" innan man kräks på andra, men tack och lov finns det fler vakna människor som kan belysa det svensk-europeisk-amerikanska hyckleriet:
Skärmdump tagen runt 01.30 den 2 mars.
Låt oss inte förglömma Carl Bildts upphetsning och aktiva stöd för massmorden såväl i Irak som på Balkan.
Här nedan utgår Bildt naturligtvis ifrån att världens människor är så enfaldiga att de inte känner till att USA och EU intervenerar militärt via proxy, ombud alltså, och likt forna tiders krigspsykopater struntar fullständigt i vilka de använder sig av. Alla kategorier, från al-Qaeda till högerextrema och Gaia-fundamentalister* fungerar så länge de får jobbet utfört åt beställarna. Inget nytt under solen där.
Tacksamt nog är det återigen fler än jag som mår illa över den svenske folkmördarens Twitter-hyckleri:
Skärmdump tagen runt 01.40 den 2 mars.
Att Bildt kroniskt ryter mot Ryssland och ser till att gnälla, fördöma och hota till höger och vänster har antagligen lika mycket att göra med att han är en arrogant viktigpetter, som att han siktar på att bli EU:s nye utrikesminister.
Den arrogante viktigpettern Bildt.
"En medelstor hund i en för stor kostym", var det
visst någon ambassadör som sa . . .
Du kan läsa om skräckkabinettet som aspirerar på EU-posterna i artikeln
Leading The Pack
, på European Voice.
Glöm inte heller att socialdemokraternas internationalist, mörkermannen Urban Ahlin, gullat ohämmat med nationalistpartiet Svoboda, och likt Bildt aktivt deltagit i den nazi-understödda statskuppen i Ukraina.
Project Syndicate:
Carl Bildt: The European Union and the United States are doing what we can to secure a peaceful transition to a more stable democracy
Högersektorns ledare Dmitry Yarosh, sägs ha kallat in förstärkningar i form av den tjetjenske islamisten Doku (Dokka) Umarov, alltså han som hotade med att attackera OS i Sochi.

Doku Umarov
Enligt bland annat Daily Mail skall dock Doku Umarov ha likviderats av "ryska specialstyrkor" innan OS startade. Påståendet om Umarovs död kommer från Tjetjeniens (islamistiske) president Ramzan Kadyrov, men huruvida det stämmer eller ej är tämligen oklart. 
VoR:
Yarosh's appeal to terrorist Umarov shows essence of Ukrainian power- head of Caucasian peoples' society
Högersektorn på
Twitter
Wikipedia:
Pravyi Sektor
Svobodas engelskspråkiga
hemsida
Wikipedia:
Svoboda
RT:
Russia's UN envoy: Radical forces destabilising Ukraine must be stopped
Svoboda:
Oleh Tiahnybok met with a delegation of OSCE representatives
Hemsida:
OSCE
Gomorron Sverige 20/2:
Natalya Pasichnyk tackar Carl Bildt för inblandningen i Ukraina
SvD:
Rysslands fiende nummer ett
Daily Mail:
Chechen warlord Doku Umarov who threatened Sochi Olympics is killed by Russian special forces
Global Research:
Ukraine Neo-Nazi Party Threatens Russia with Nukes: "We'll Regain our Nuclear Status in 6 Months"
Daily News:
Defeat neocon conspiracy in Ukraine!
Tittar vi då på finansiering av Ukrainas så kallade NGO:s så finns det många som gladeligen häller pengar över de "demokratiska frivilligorganisationerna" så de kan ställa till med de av väst hett önskade "upproren". En av de många organisationer som strösslar pengar i Ukraina, New Citizen, är grundad av internationalisten och finansmannen Pierre Omidyar:
New Citizen is a coalition of more than 50 civil society organizations that mobilizes civic participation in Ukraine and serves as the country's primary forum for government transparency and accountability.
New Citizen provides Ukrainians with a platform to collectively advocate for positive social change, from defending human rights to solving problems of local governance, the environment, and healthcare.
With support from Omidyar Network, New Citizen will strengthen its advocacy efforts in order to drive greater transparency and engage citizens on issues of importance to them.
Omidyar Network:

New Citizen On Ukraine
First Look: Omidyar's $250 Million Dollar Media Venture and the Greenwald / Paypal / NSA saga:
Källa: Corbett Report 2014-01-08
Global research:
Secrets for Sale" and The Snowden Affair: The Greenwald-Omidyar-NSA Connection
Omidyars nya magasin:
The//Intercept
New Citizens:
Partners
Pando Daily:
Pierre Omidyar co-funded Ukraine revolution groups with US government, documents show
Några utdrag ur en rapport författad efter den "Orange revolutionen" angående utländsk finansiering till spridning av "demokrati" a la´ Väst:
The donor landscape and the relationship between donors and NGOs have become more complex over the recent years.In the 1990s ant the early 2000s the primary source of funding for many Ukrainian NGOs came from abroad.
This was because democracy promotion through strenghtening civil society became a priority for numerous western governments and international NGOs, especially in countries perceived to be undergoing a transition to democracy.
At first US assistance clearly dominated, but with time the EU and other European donors began to play a more prominent role.
Stewart:
NGO Development in Ukraine since the Orange Revolution
PDF
New York Times:
Ukraine — The United States and the European Union have embraced the revolution here as another flowering of democracy
Du minns den där amerikanska damen som var så ful i munnen, USA:s sändebud till Ukraina, som sa "Fuck the EU", Victoria Nuland? Just det, hon ja. Madame Nuland verkar ha en tendens att låta munnen gå rätt obesvärat, vilket hon även gjorde vid en konferens i Washington:
International Business Conference at Ukraine in Washington - National Press Club - December 13, 2013. Victoria Nuland - Assistant Secretary of State for Europe and Eurasian Affairs.
Since the declaration of Ukrainian independence in 1991, the United States supported the Ukrainians in the development of democratic institutions and skills in promoting civil society and a good form of government - all that is necessary to achieve the objectives of Ukraine's European.
We have invested more than 5 billion dollars to help Ukraine to achieve these and other goals.
The United States will continue to promote Ukraine to the future it deserves.

Du kan lyssna på hela anförandet om 8.47 minuter, men ovan citerade kan du lyssna till från 7.27 och framåt:
Så kommer vi då slutligen till mannen med Gudskomplex, George "Asgamen" Soros, han som har som livsuppgift att ruinera stater och ta över därhelst och närhelst han har lust. Förutom makt och pengar älskar han också det klassiska europeisk-amerikanska evangeliet som kallas för "demokrati".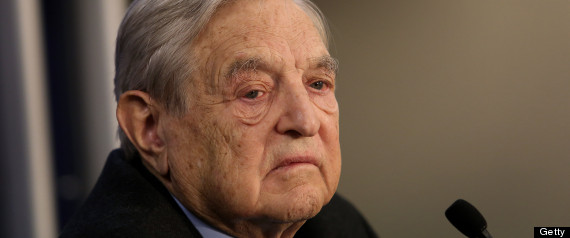 Grinig miljardär
George Soros
Open Society Foundation
finns i mer än 60 länder och spenderar årligen omkring 600 miljoner dollar på att främja det som är bra för Soros. Vilket oftast är någon form av uppror, statskupper, krig samt legalisering av marijuana.
Som du ser så är det många involverade i det så kallade "upproret" i Ukraina (och då har jag bara nämnt några här) och det går till precis som i Syrien och andra "orosstater". Som du också sett, om du följer min blogg, så är det i mångt och mycket samma "demokratiska" stater, unioner, organisationer och personer som ligger bakom "uppror" efter "uppror".
RT 2011:
Leading party says Soros prepares "Libyan scenario" for Ukraine
Ratical:
The Ford Foundation and the CIA: A documented case of philantropic collaboration
George Soros:
International Renaissance Foundation
Kyiv Post: International Renaissance Foundation: Statement on systemic repressions against civil society in Ukraine
Wikipedia:
International Renaissance Foundation (IRF)
is a
Ukrainian
NGO
founded by
George Soros
Project Syndicate, George Soros: Sustaining Ukraine's Breakthrough
CBS News:
Soros Gives $1Million to California Pot Legalization Push
Adderat:
Så kallade "uppror" och svensk terrorpolitik
Adderat:
Blodiga imperiekrig
RT:
Up to 143,000 Ukrainians requested asylum in Russia in two weeks
Press TV:
Ukraine coup result of 'no' to EU
Reuters:
Ukraine places anti-terrorist forces on alert
Paul Craig Roberts:
Is Ukraine Drifting Toward Civil War And Great Power Confrontation?
Ria Novosti:
Obama Warns Russia Against Crimea Incursion
In Serbia News:
Lithuania to invoke NATO treaty on Ukraine
EAP Community:
Ukraine
UK Department for International development
(DFID)
United States Agency for International Development KIEV
(USAID)
European Instrument for Democracy and Human Rights
(EIDHR)
* Gaia-fundamentalister: Maurice Strong & co vilka skapade New Age-rörelsen/-erna.
Se t.ex. SvD:
Myten om självhjälp har ersatt religionen